Warm Spaces
Advice Services
Citizens Advice
Peabody
Central Law CIC
Help claiming Universal Credit
Turn2us
Home Group
Welfare
Chelmsford County Council ESF Welfare
Help with paying bills customer support centre 01245 606606.
Drop in for emergencies: Civic Centre, Duke Street, Chelmsford, Essex, CM1 1JE
Essex Welfare Service
Pension age benefits and help
Age UK
Advice for Tenants and budgeting
Chelmsford County Council
Peabody
Citizens Advice
Community Money Advice Centres (debt)
CAP Debt help centre in partnership with Danbury Mission Church
Step Change Debt Charity (national)
Multiple ways get to get in touch but if telephoning, then see the information needed to have ready before calling.
National Debt Line (national)
Multiple ways get to get in touch but if telephoning, then see the information needed to have ready before calling.
If you are a victim of a Loan Shark (illegal money lender)
Illegal Money Lending Team (National)
Affordable warmth /energy
Peabody
Citizens Advice
Chelmsford County Council
Financial Capability and Learning About Money – Websites
Drop-in and Other Help
Ideas Hub Chelmsford
offers 3 x free legal sessions on Mondays 10am-1pm
at The Art Place, Meadows Shopping centre, Chelmsford CM2 6FD

To book call: 07964 805397 - Debora Aloba from Affordable Law (does not cover criminal or immigration, can prepare clients for court and accompanies on occasion).
Peabody offer a 'drop-in' service, people can attend and get free advice. The timetable is as follows: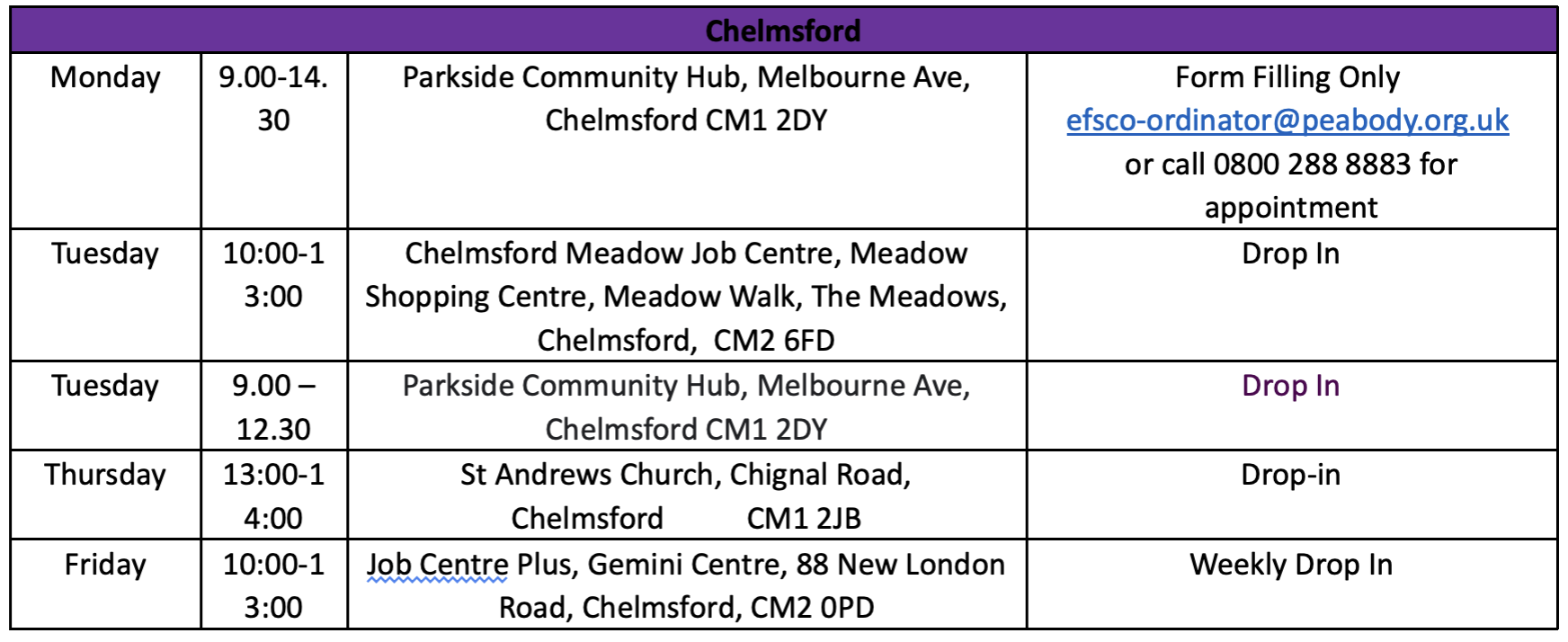 Peabody Essex Outreach
Baby Basics
Part of the community activities from: Moulsham Lodge Methodist Church, Lime Walk, Chelmsford, CM2 9NJ
Tel: 07895 904594
https://baby-basics.org.uk/
Offers help and support to new mothers or families who are struggling to meet the finacial and practical burden of looking after a new baby. Clothing bank, baby equipment etc, see a list here: https://baby-basics.org.uk/how-to-get-involved/giving-supplies/
Growbaby Chelmsford
199 – 200 Moulsham Street, Chelmsford, CM2 0LG
Opening hours: 10am – 12.00 (Saturday monthly) 10am – 1pm (Wednesday weekly)
Tel: 07564 982595
https://www.growbaby.org/directory/growbaby-chelmsford
SVP Springfield (st Vincent De Paul)
White goods, furniture (including beds), kitchen equipment etc. List here:
Lighthouse Furniture Project LTD
25/27 Tallon Road, Brentwood, Essex, CM13 1TE
Tel: 01277 222050
Website: http://www.lighthousefurniture.org/
Opening hours: Monday: 9.30am – 4.30pm | Tuesday – Friday: 9.00am – 4.30pm | Saturday: 9.00am- 12.30pm
(Telephone is not manned at the weekend) Offer discounted furniture, white goods and household products (including electrical items, kitchen ware and bedding). Some items may be free of charge depending on circumstance.
Little Edi Foundation:
585 Galleywood Road, Chelmsford Essex, CM2 8BS
Tel: 07859 815929
Creates development opportunities for disadvantaged young people from local areas this may include giving aid including fresh food, toys, school equipment and uniform, volunteering and organising events for the younger children and have a summer scheme.
St Francis Community Pop-up Food Store
Tuesday 9.30am – 11.00am at Ford End Village Hall, Main Road, Ford End, Chelmsford, CM3 1LQ
Tuesday 2.00pm – 4.00pm at St Andrews Church Hall, Chignal Road, Melbourne, Chelmsford, CM1 2JB
A Helping hand with your weekly shop.
First visit, you pay a one-off £10.00 membership fee, you will receive a special pop-up store bag-for-life and your first shop. Subsequent visits, you bring your pop-up shopping bag to fill with shopping, you pay £5.00 and receive shopping worth £20.00 - £30.00. There is also a welcome space for a cuppa and a chat.